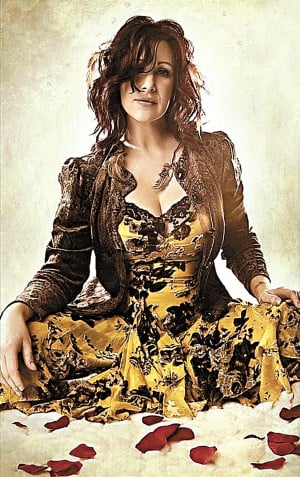 DECATUR - Before she was a 1980s teen idol famous for hits such as "I Think We're Alone Now" or "Could've Been," Tiffany Darwish was an aspiring 9-year-old country singer.
This March, with the release of her eighth studio album "Rose Tattoo," that's what the vocalist is again, albeit 24 years after Darwish, known simply as Tiffany to her fans, began her musical career with a self-titled number one pop music album in 1987. It took Tiffany more than two decades to finally release the album she felt was within her all along.
"I actually did my first tour at the age of 10 with my dad, and it was as a country singer," said Tiffany, who will headline the Decatur Celebration's Goodtimes Stage for two shows on the night of Friday, Aug. 5. "We toured through Alaska, and he took me to sing at places like county fairs, hoedowns, backyard barbecues, you name it. We were usually passing around the hat for gas money to get to the next gig."
It's understandable, then, that Tiffany and her parents were eager to have the then 13-year-old singer move on to bigger and better things under the watchful eye of Nashville producer George Tobin, who also suggested the singer should move her style to more radio-friendly pop. Tobin also was responsible for suggesting Tiffany first perform chart-topping singles such as "I Think We're Alone Now." As a young teenage girl, however, Tiffany was overwhelmed by the pace of her performing life and found it difficult to express herself, especially when it came to the recording of a follow-up album.
"After a hit, the rush to get another album out is exactly that," she said. "On the second album I did, there are definitely songs I felt were really not up to snuff. It was a little frustrating, because I also never had faith that pop music was going to show people that I could really sing."
And so, Tiffany's star declined into the 1990s as she moved away from pop stardom, released several singer-songwriter albums, developed her songwriting and became a mother. She returned to the public eye by charting several dance music hits in the late 2000s and appeared poised for a possible career revival in the dance industry, but knew in the back of her mind that the time had come to embrace her original passion, country music. There were a handful of reasons for the decision.
"My son has grown up and is going off to college, and I just felt the time was right," Tiffany said. "I moved to Nashville and was there for two years just studying the scene and writing music, taking my time before I ever started working on an album. Being a workaholic throughout my career has let me make the money to finance my own album, which is what I've always wanted. Plus, I love living here in Nashville. I've been here for four years and it's where I would choose to be even if I wasn't doing music."
And so, Tiffany haunted the writers' nights of Nashville clubs, performing in small venues and narrowing down selections for a country album with attitude. That album became "Rose Tattoo," released in March.
"It's a classic country blues album because I love the blues as well," said the singer. "It was inspired by artists like Stevie Nicks, Emmylou Harris and Stevie Ray Vaughn. I wanted to be able to embrace all of my heroes and inspirations at once. It was done in celebration of their talents, but I see my own voice as my contribution."
Television audiences, younger viewers and science fiction fans may even recognize Tiffany from a starring appearance earlier this year in the SyFy Channel original film "Mega Python vs. Gatoroid," along with fellow 1980s teen idol Debbie Gibson. The singer called the experience of filming a fun diversion, but said that acting wouldn't distract her from country music. Her fans, she said, have made the move along with her.
"The fans have moved with me into country music and they seem to love the new album," she said. "It's great to make new fans as well who would never have listened to my pop albums. I still do perform the pop songs, though. I'm not trying to run away from being Tiffany. The reason I can continue to do music today is because of the success of those classic pop songs."
Country, however, is where Tiffany's heart truly lies. She dreams of one day meeting and playing with her idols, just like she did when she was a little girl.
"I want to play the Grand Ole Opry for sure," she said. "And I want to meet and play with people like Emmylou Harris and Vince Gill. I'm all about showing people what I can really do in country music. Give me a mike and let me perform and I'll prove it to you."
jvorel@herald-review.com|421-7973
Read more: Tiffany Darwish's heart lies in country music http://www.herald-review.com/entertainment/local/article_4dd493da-9dd6-11e0-bc9f-001cc4c03286.html#ixzz1QHrunITM
From the Herald & Review
http://www.herald-review.com/entertainment/local/article_4dd493da-9dd6-11e0-bc9f-001cc4c03286.html