Tiffany's iconic number one hit single I Think We're Alone Now captured the heart of a nation and catapulted her to pop superstardom. The singer and songwriter's new full-length album A Million Miles debuts on March 31, 2016.This album is from Tiffany's heart; great powerful vocal; great music and lead's Tiff writing team reflecting from her own history.I gaurantee 100% you must love this album. www.pledgeMusic.com .Killer songs are "Right here",Powerful ballad "Tears" "A Million Miles away"
Friday, December 16, 2011
Posted by

Natt
at 6:54 PM
No comments:
Links to this post


2011 was the year that Billboard celebrated the 1000th No. 1 song on the Hot 100. As we look back on this year in music, we're celebrating that milestone with a month-long series of videos --- one for each day of December -- chatting with 31 of the hitmakers who rocketed to the top of the chart since its inception in 1958.
SEE THE FULL CHART HERE.
On day 13 of our 1,000 Hot No. 1s video series, we move from yesterday's 2002 R&B duet,
Nelly
's "Dilemma," featuring
Kelly Rowland
, to
Tiffany
's back to back No. 1s -- 1987 "
I Think We're Alone Now
" and 1988 "
Could've Been
." "When I heard that my hit song had went No. 1, I was washing dishes. I was doing my chores because I was a teenager, of course. My manager called me and said 'Congratulations, you have the number one single in the country,'" Tiffany told Billboard.com of "I Think We're Alone Now" which peaked on Nov. 7, 1987. "I said, 'You know what? I have to get off the phone because I have to finish my chores otherwise I'm going to be busted and I won't be able to do anything.' And, he's like, 'You don't get it'... but I had to finish those chores."
http://bcove.me/6zn2lgal
The '80s teen sensation didn't realize the impact of her "Could've Been" either -- which peaked at No. 1 on Feb. 6, 1988 -- till she saw it on her fans' faces. "I think it took a while for me to really understand [that] people like me [and] people like the song," Tiffany said. "That didn't really start to effect me until I started traveling and seeing people's faces and how they reacted to me."
Be sure to come back tomorrow (Dec. 14) for the next 1000 No. 1s video: Nickelback talk about their No. 1, "How You Remind Me."
Watch Yesterday's 1000 No. 1s Video:
Posted by

Natt
at 6:06 PM
No comments:
Links to this post


Monday, December 12, 2011
Country Stars Central was blessed to be at the 7th annual "Tunes for Tots" fundraiser this year at the Listening Room in Nashville TN on December 6th, 2011.
The incredible line-up consisted of 80's Pop Sensation and star of Gone Country Tiffany, R&J Recording artist Margaret Durante, and Singer/Hit Songwriter Bobby Pinson.
This special event was put on by the "Women's Music Business Association" (http://wmbanashville.org/ ) Very special thanks to them for all that they do, including this benefit for the "Tune's for Tots Foundation."
Bobby Pinson opened the show by thanking everyone for inviting him for this great cause, he sang "Don't Ask Me How I Know" which was a hit for him back in 2005. Pinson has written many hit songs for big artists such as Sugarland's "Already Gone," "All I Want To Do," and "It Happens." He has also had hits with Toby Keith, including "She's a Hottie" and "She Never Cried in Front of Me."
Bobby put on a great show and provided many laughs. He was both entertaining and musically consistent throughout all of the songs he performed.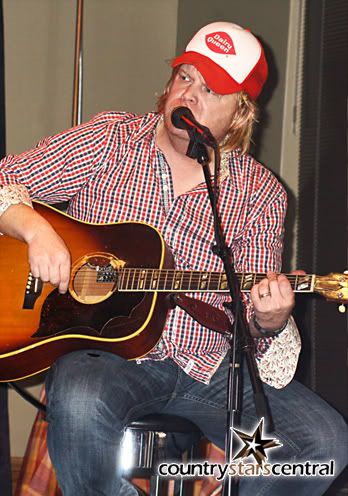 The show rotated between the three artists, each one bringing so much talent and greatness to the table.
Tiffany who we all know from her monster 80's hit "I Think We're Alone Now" blew me away with her vocals. She went country in 1995 and recently released her latest Album "Rose Tattoo." She performed many of the tracks off the new album during the show, including "He's All Man, He's All Mine" and "He Won't Miss Me."
I was very impressed with Tiffany both vocally and for the great entertainment that she provided. Justin Zimmer complimented her on guitar and sang backing vocals. It was a delight to hear and I would definitely recommend you purchase a copy of Tiffany's CD.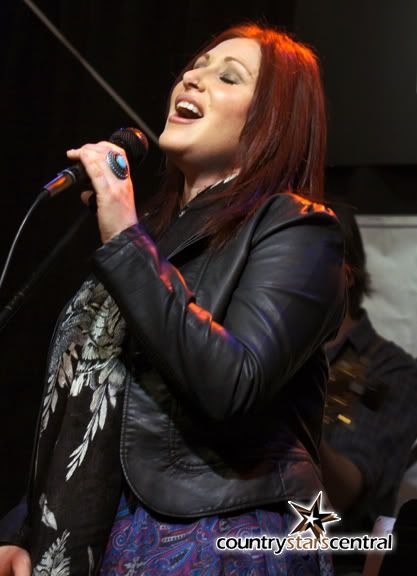 Last but not least third in the round was Margaret Durante, signed R&J recording artist that really showed great vocal and musical ability throughout the show. She played original songs such as "Mostly Bad," "Preachers Daughter" and "Fall Madly In Love With You." I was very impressed by Margaret who has a new album coming out in early 2012. She was backed up by Cade Doyle who did an awesome job playing guitar and backup vocals.
To me the show couldn't have been any better. WMBA really put together a top notch show that was enjoyed by all and supported a very great cause. I was blessed to be at the show and want to thank everyone that worked so hard to make this event possible.
Here is a list of the Artists Official Websites, please check them out:
Special thanks to The Women's Music Business Association and Vice President Holly Ashby.
Posted by

Natt
at 5:56 AM
No comments:
Links to this post